Give your laptop screen the height it deserves. Read on for our Kensington Laptop Riser review.
The coolest thing about this laptop riser isn't that it's QI wireless enabled. Nor is it the cable management system under the upper deck, or the fact that you can strap a docking station under the top.
No, to me it's coolest feature is how portable it is.
It really is grab and go. If you're working on a laptop, you really need an external screen. And if you haven't got one of those, or you need to move around at home or at work, then the Kensington Laptop Riser is perfect.
It's really sturdy but also really, really light. So you can just grab it and move from the kitchen to the living room, or the living room to the conservatory. Add a wireless keyboard and mouse into the mix and you're good to go.
The height-adjustable legs secure easily with two easy-grab screws, so you can choose the right height for you out of four available settings. If you need help with that, Kensington's SmartFit sizing guide makes it easy for you.
The rubber pads on the base stop and sliding, and the base is great for dumping your mobile. If your mobile phone support QI Wireless Charging, you're in for a treat, your phone will charge wirelessly on the bottom tray, so long as the tray is plugged into the supplied micro-usb charger.
Finally, if you work in an open office, you can take advantage of the Kensington security slot to lock it down with a compatible cable. And that wraps up our Kensington Laptop Riser review.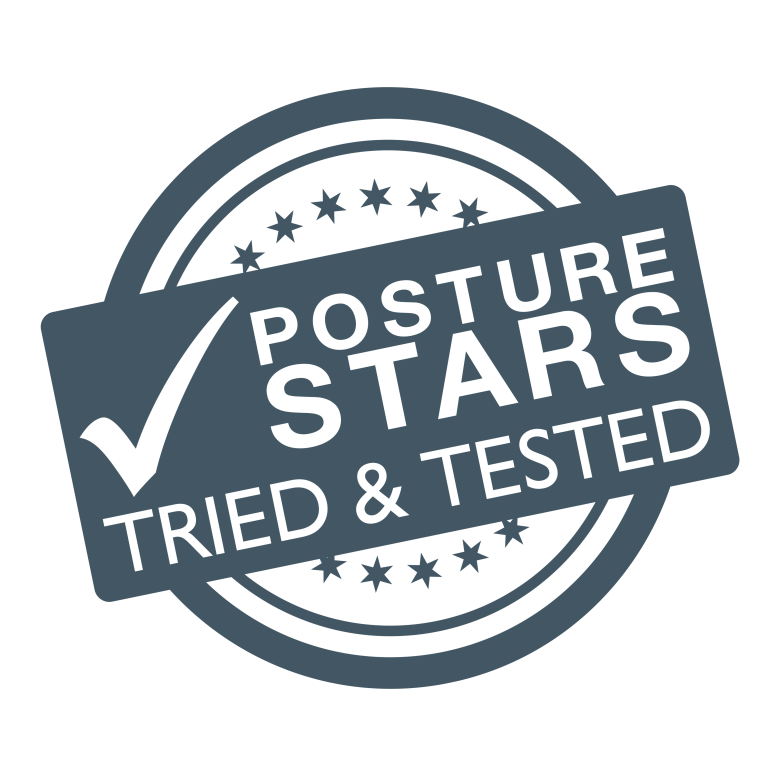 We put every Posture Stars Tried & Tested product through our rigorous testing process.
Then, and only then, do we award a rating and offer it for you to buy.
If we don't like a product or don't think it will help, we say so!
So you can be sure we only recommend the best posture products.
QI wireless phone charging pad
Height Adjustable with SmartFit system
Regain some desk space plus cable management
Model reviewed: Up to 15.6″ with Qi Charger, Black
Could go a little higher if you're really tall
Some wobble if your desk wobbles too