GIVE YOUR MONITOR A RAISE
Today I have the pleasure of pulling together a review for this Kensington SmartFit Monitor Stand.
My home office has been pushed to one side by the growing needs of my burgeoning and rowdy family. So my desk for today is a chest of drawers. Which is fine.
I'm quite happy spending some time standing to work. But the chest of drawers was too low to let the top of my monitor rest at about eye height. Until today.
Now it's just the right height, and all thanks to a really simple solution from Kensington.
THIS MONITOR STAND IS EASILY HEIGHT-ADJUSTABLE
The monitor stand has a set of risers that let you raise your monitor to one of three vertical settings: 3″, 4.5″ and 6″. 6″ works perfectly for me.
What's just as good, is the space now free under my monitor – there's a full 20.62 inches wide of space under the stand to let me house my laptop and keyboard. So my desk just doubled in size too!
Moreover, I now have a space for desk bits and bobs – my mobile phone, various keys and coins, and illegible reminder notes too. Very handy!
PRACTICAL AND EASY TO ASSEMBLE
The stand comes in a solid mdf-type wooden top in a sleek black matt finish, so it goes well with most colour schemes, and it even fits my frankly enormous 31.5″ monitor with ease. Four soft rubber feet stop the hard black plastic legs from scratching my furniture should I move the stand.
The stand came flat-packed, but was super-easy to put together with the supplied hex/allen key. You simply choose how many spacers to place between the top and bottom of the legs, and screw the legs to the wooden plinth. My random hex/allen key collection just gained another buddy.
The instructions come with Kensington's SmartFit system which uses a hand-measurement guide to determine your settings, but to be fair this didn't matter as it was my monitor base and the height of my furniture that dictated the correct height.
This stand is really sturdy, it has to be, to take the weight of a big monitor. So I feel confident it will last.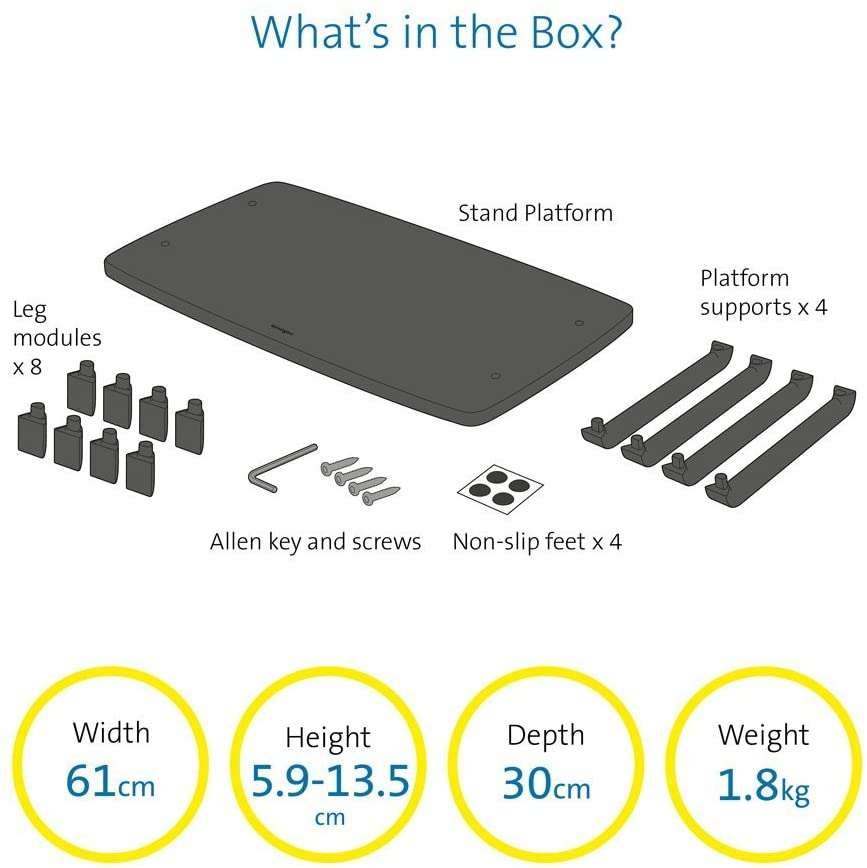 Sturdy build quality in a nice neutral matt black means it looks good
Your posture is helped enormously by having the right height for your monitor to reduce eye and neck strain
The extra space it creates is a massive help if you're tight for room
Easy to put together and place correctly – no fuss at all
The rubber feet protect your furniture
Kensington Monitor Stand – Size Reviewed – Large Ergonomic Screen Riser (W610 x D300 x H59 mm) with SmartFit System – Black
Material – wood and plastic
Can be used as: Monitor Stand, Laptop Riser, Console Stand, Printer Stand, Desk Shelf & More
Size Reviewed: Up to 27 Inch Monitor (my 31.5″ was just fine!)
The SmartFit system was surplus to requirements
The price is fair but a lot more expensive than a pile of cookery books
An extra set of spacers would be handy for monitor bases that don't adjust up in height enough