If you're looking for a compact wireless keyboard, this Kensington Wireless Compact Keyboard review should be right up your street.
Kensington's latest keyboard offering is the Multi-Device Dual Wireless Compact Keyboard, and it's perfect for home office users or if you're on-the-go with a laptop.
One of the main issues I see with homeworkers is lack of desk space. If that's you a compact keyboard is a great way forward. Reclaim that desk space, you don't need a massive keyboard with a number-pad – you do need room for a drink, an indoor plant, or room to read or write.
I like this keyboard a lot because, despite being compact, it's really sturdy. Sometimes compact keyboards give away their build quality in order to be affordable or portable. But not this one.
You could drop this or twist it by accident in a bag, and you wouldn't know that had happened.
That's probably why Kensington are happy to offer a three year warranty with it. It's also safely wipe-cleanable (that's a word, honest!)  which is reassuring.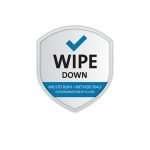 And it can connect to up to three devices at one, such as your computer, tablet and mobile phone, which is an impressive feature, well done Kensington!
I'd recommend this if you work from home, or if you use a laptop and travel, it would make a great addition to your computer equipment without breaking the bank.
Connectivity come with Bluetooth 3.0 and 5.0 and 2.4Ghz wireless, so you can use Bluetooth if you're short of USB ports on your computer, and it's backed by government-grade encryption to keep you safe.
A nice feature you don't often see on keyboards is a low-battery indicator, which is really handy and stop you k b rrrddd stutterrrrringgg before you know it! We wish it had this feature on our other favourite Kensington keyboard, the Kensington Pro Fit Ergo Keyboard.
Kensington Wireless Compact Keyboard Review Score: 5 Stars
This is a tidy, tight and sturdy keyboard perfect for working from home on on-the-go with your laptop. Approved!