Our Hag Sofi Review: Our Favourite All-Rounder Ergonomic Office Chair
As you can see from the review, we're really impressed with the Hag Sofi Mesh 7500, and for good reason. Let's find out why…
Hag Sofi - Sitting Pretty
When we choose our favourite ergonomic office chairs, we're really thinking hard about the person who'll be sitting in them. It's all about the person and their relationship to the chair! And sometimes you just need a good all-rounder for the home or office. We think the Hag Sofi fits the bill perfectly for people or companies looking for an ergonomic office chair that has all-round comfort and style. Read on with our Hag Sofi Review to find out why…
A good choice of ergonomic chair for agile, hybrid and hot-desk work environments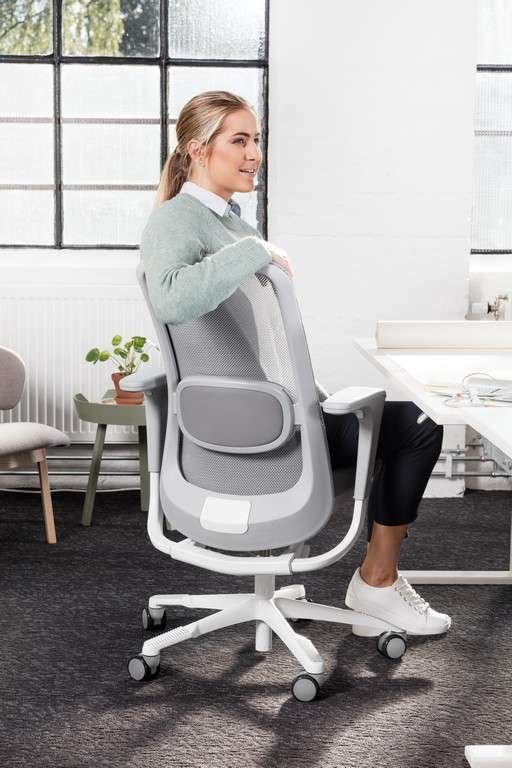 Many office chairs are just plain awkward to adjust. In the hustle and bustle of a busy workplace it's easy to overlook adjusting your chair, which can leave you sitting poorly, feeling tired, and leaving you sore.
The clever balance mechanism on the Hag Sofi means that when you change the height of the chair, you can quickly find the right balance point for yourself. And when you have the right balance, the active balance mechanism keeps your posture active, varying as you move whilst providing comfort and support. So it's a big tick in the posture box, and as you know, we're all about posture! If you can get a good office chair that keeps you mobile and comfortable instead of fixed and rigid, you're doing the right thing.
The built-in lumbar support on the Hag Sofi is also super-quick and easy to adjust, and has immediate tactile feedback, so you just know when it' right for you.
And if you need to change the depth of the seat (for longer or shorter legs), it's the back that moves to fit you with a simple side lever, rather than moving the seat pan, so once again you get the immediate tactile feedback that makes setting the chair for you a doddle. 
Smooth and comfortable ergonomic office chair
The mesh back is a high quality mesh, it really makes a difference. As well as being super-comfy,  it's great for those hot summer days when you chair can get too hot for you! We found it to be much more supportive than many other mesh-backed chairs where the quality of the mesh has been skimped on.
The seat itself is also super-comfy. During our tests we never felt any cases of "numb-bum!" In fact it's probably the most comfortable seat pad we've ever sat on.
Good-looking ergonomic chair
Many 'less-than-premium' chairs aren't comfortable at all, including many that are chosen to look good in the office.
The Hag Sofi, however, is a premium chair that feels great and looks good too, which is the perfect combination! 
The range of colours means you can chose a chair that will look good in your office without missing the point of your colour scheme. And the chair itself just looks great, don't you think?
As well as including a high proportion of recycled material, the chair has no glue or other harmful substances, and come apart well for pretty much complete recycling at end-of-life. With a full 10 year guarantee, that's not going to be needed any time soon though! Hag put a lot of effort into their eco credentials, and it shows.
We found the arm rests (you can have the chair with or without these) to be highly comfortable and really easily adjustable. We particularly liked how high they can be raised, which is great for supporting your arms when reading on your phone or tablet, reclined and comfortable. They can slide back, for getting really close to the desk, or slide forward for when you're sitting back on a video call, and all the actions are smooth and easy.
Our favourite all-rounder ergonomic office chair
If we had to pick just one chair to recommend for your average user, in average work environments, we'd recommend this decidedly above-average chair for you! If you choose this chair we're sure you'll be delighted…