Join us for our Standivarius Laptop Ergo Kit Review
Laptops can be a real pain in the neck. If you're having to work or play on a laptop and you haven't got external peripherals to support you, you'll be heading to pain-central for an overnight stay.
The Standivarius Laptop Ergo Kit is an attempt to help you make the most of your laptop, in a lightweight all-in-one package.
You get a lightweight aluminium laptop stand, a wireless or wired keyboard, a wireless mouse, and a USB extender all in one package – which means you can turn your laptop into an ergonomically sound setup in one fell swoop.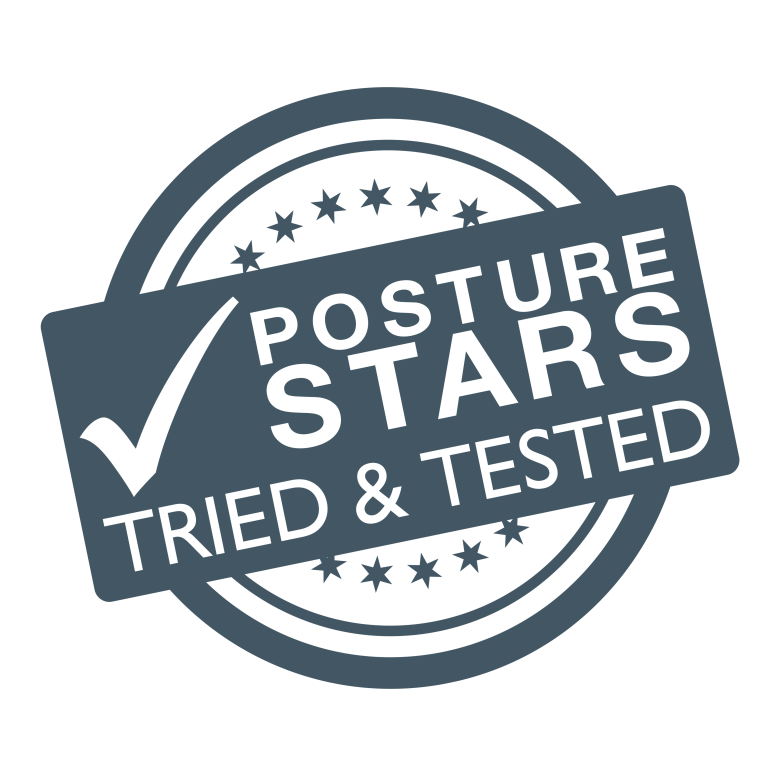 EVERY POSTURE STARS TRIED & TESTED PRODUCT HAS BEEN THROUGH OUR RIGOROUS TESTING PROCESS, TO CHECK OUT:
Does it actually help your posture?
Ease of use
Value for money
Then, and only then, do we award a rating and offer it for you to buy. If we don't like a product or don't think it will help, we say so!
So you can be sure we only recommend the best posture products.
AN ALL-IN-ONE ERGONOMIC SOLUTION
First let's take a look at the laptop stand. This is going to be for many the most important addition. The supplied Standivarius Oryx Evo D is a lightweight natural aluminium stand, suitable for laptops up to 17″/5Kg. It really is light and strong. The aluminium build feels sturdy, and the unit opens out easily from it's 2mm flat depth to stand your laptop comfortably. If you work with paper, there's room for your documents in the integrated document holder too. You can tell that Standivarius have thought long and hard about making a quality stand for people short on space and weight in their laptop bag.
Next comes the wireless mouse, a DUO101M. The 2.4Ghz USB dongle stores nicely in the base. A DPI selector allows you to easily calibrate the speed of your cursor to your task, and the mouse turns off automatically when your laptop shuts down, which is a great feature if, like me, you often forget to turn off your mouse. It's not the biggest mouse in the world, if you have hands like a builder you might prefer a more robust mouse, but it's fine for everyday hands like mine. The mousewheel and buttons all have a reassuringly solid feel to them despite the lightweight nature of the design.
Add in a wireless or wired keyboard as your choice for this package and you're good to go. 
I tried both the wired and wireless versions, and I much preferred the wireless Solo X Rechargeable Keyboard. It was a little larger than the onboard keyboard of my Dell XPS15, and had the full range of keys. Being wireless, the desk space benefitted more than the wired version, and the keypresses felt really good. The bonus is being able to recharge the keyboard by the standard micro-USB. Living without the pain of batteries is a real plus at home or on the move. This also means the keyboard is really low-profile, perfect for slipping into a laptop bag, with the laptop stand, without taking up too much room.
It comes with a little stand to raise the back of the keyboard to a good height. This stand also has a slot to house the keyboard USB dongle when not in use, which is a nice touch. Someone has clearly thought about how to make this a practical user experience.
Finally in the box is a snug 3-port USB extender, which will come in handy if you don't have many USB ports – another nice bonus.
The Standivarius Ergo Laptop Kit gets an excellent rating of 90% here on our posture devices apps and wearables review.
Encourages you to have a better posture by raising your laptop's screen
Wireless keyboard and mouse work really well in small spaces
USB extender (included) perfect for adding USB ports
Super lightweight and slim for laptop bags and moving around
Sturdy, super-slim lightweight aluminium laptop stand
Oryx Evo D laptop stand and document holder, 210g. Flat 308x206x2.5mm. 43 to 55 degrees tilt. Robust support for 17″ screen/5Kg laptop.
Wireless 2.4Ghz mouse, adjustable DPI, onboard dongle mount, auto shut-off.
Solo X Wireless Rechargeable Keyboard, ultra-slim rigid aluminium chassis, 330g, 307x122x18mm, rechargeable, 2.4Ghz technology.
The tallest people will need a taller laptop stand to raise the screen enough
The mouse isn't for the large-handed or the builders out there
The wired keyboard option is great for laptop use on-the-go but not ideal for static use